Before you read below please check these few posts out that I've done with photo and video proof to how not so nice Emma Watson can be.
Emma Watson diva moment with publicist
(youtube video).
Emma Watson diva moment with driver
(Photos of her yelling at him), and
Emma Watson diva moment on Perks set
. Click my diva labels on the right side of my page to see other postings. Don't forget her bitch face photos
here,
here
and at the bottom of this post
here
including a youtube video. Those are the short list of thing I have posted. There are many more like that. It would probably be best to you if you check these links first and then read this post to put it into perspective.
Below is a story a fan posted on their blog and ONTD posted it. It's older but if you checked the links out above it make it relevant. Now things like this you have to be cautious about because there is no real evidence or source. If you clicked the link above to put this story below into perspective it is highly plausible this is not as far fetched as you would think. On one hand you are grappling with the image you are used to seeing but on the other with regards to my posts above it is not the one you are used to seeing. Then you have stories and comments like the ones below.
From

ohnotheydidnt.livejournal.com

Feb 2008
"I was always a fan of Emma Watson, she seemed sweet and friendly. I even met her when I was shopping last year (i got her photo which was taken from me and posted on a certain website). I was so excited to hear that my friend had a part as an extra on Harry Potter and the Half Blood Prince. So yesterday was my friend's second day of filming. She had so many wonderful stories to tell me about her experience, including one not so wonderful story which has changed my views on Emma Watson forever. Even my friend who was an Emma W fan was reeeeeally shocked by what she saw.
Here is the story: "There was a muddy pathway where some extras were trying to get through without falling into the mud. Emma pushed through the extras shouting "excuse me I'm coming through!!!!"
she pushed a small young extra out the way, but luckily the extra was caught by another extra just in time so she didn't fall into the mud. A girl said to Emma " what do you think you are doing?" Emma shouted back "how DARE you talk to me like that! Do you not know who I am!!!!!??" Luckily the girl replied "yeah, you are the girl that moves her eyebrows 500 times in the movie." Emma just scowled and gave them an evil look while walking off."

Now you can either believe this story or not believe it, its up to you. I was a fan of Emma's so its not like I am doing this because I hate her or something."

http://randomtyper.blogspot.com/

(this blog with the story has been deleted)
Emma really does have a mean looking stare here or what?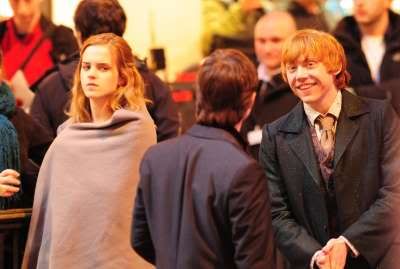 Here is the report from a guy who meet her 'famous' boyfriend at a club. And what he said today at the comments: "Damn, I should meet more famous people, seems to be good for my blog. What did he say. We started by asking him if it was actually even fun dating her, you probably don't see her a lot at all and stuff... And he went like, yeah that's quite annoying but you know, we both live quite busy lives and stuff so. On which we joked to him and said ( I should though mention that that was after a couple of beers =) ) : " Sex has to be great then.. ? ", on which he nodded with a a satisfied and " I can't help it " kind of face. On which we went on asking him some things about how she was and if he got any advantages out of her fame and stuff." Source: koenc.blogspot.com (this blog still up). Her fans commented on this second story at emma-watson-fans.net if you want to read their comments.

Remember in my last post I referenced a post I did where Emma told a UK radio talk show host that she looks good naked and she respects "his" opinion? If the second story is true I suspect it is Tom Ducker.
In my first blue link about about her bitch face with her publicist I sourced article of people complaining on set to Emma's diva-ish behavior and these few comments are reacting to it. All are people who commented on ONTD.
From
ohnotheydidnt.livejournal.com
July 2009
Comment from
glas_smaragaide
"bugger off. And yes I've met her bitch ass twice. 1. Phoenix prem in London. Took my nephew and niece and waited hours to hopefully meet the trio. My nephew loves Emma. He was the only little boy amongst all these girls. She acted like a stuck up cunt. Like it was a big hassle to have to deal with the fans. Rupert was awesome, took pics signed autographs. Dan was sweet and gave my niece a hug. Met Matt and Evanna."
Comment from
offinlahlahland
"The guy who leaked the script excerpts from ootp and hbp said she can be a bit testy on set, and extras have said she completely ignores the lot of them. This wouldn't surprise me if it were true."
Comment from
veridis_quo
"believe it, a long time ago I read some article about the costume artist on set, and the lady said Emma was difficult to please or like if she didn't like them she wouldn't wear the outfits"
Comment from
tabby_93
, "long story, but here's the jist of it we were on vacation in the same place as her, and she wanted to go out diving (we were going out diving so of course witnessed all this) and she came just before we were about to get on the boat, but she was told she would have to wait until the next boat at 1.00 pm. she got really irritated (she wasn't screaming or shouting or anything, though) and she said something along the lines of "I can't believe you would make somebody like ME wait until the next boat!"
Emma's newest bitch face last week in NYC
From
closermag.fr
July 2011 (French Magazine)
"When one asks me if it's difficult not to be big-headed, I often want to say: ' everything depends on the way one behaves with you '. The only moment when I was not down-to-earth anymore is when I had a figurine in my effigy between my hands. I really thought I was dreaming!"
(Translated from French of Watson fan site). Now was her publicist and driver acting bad with her if you clicked on those links?
Echee says:
I put this in my between the lines label even though I think the source is credible due to the blue links with evidence I provided to support Emma's personality and attitude traits that person blogged about. My between the lines posts are basically asking is this happening in a rhetorical way. What we know of Emma or what they say and how she portrays herself is this polite innocent girl thrusted into the position she is in. If you take into accounts the story and my links (especially the diva ones) you will catch a glimpse of the possibility Emma is not that nice and easy to deal with. There have been tons of rumors of her being quit testy and moody on set and with people including her old stylists and assistants. Rumors are hard to prove but if you weigh in my links and everything else here it's not too far fetched if you ask me. If you also consider all the deception, contradictions and hypocrisy I've shown in this blog about her I ask why not? With all her documented whining why not?
I know this may be hard for some to stomach but to ease your doubts and second guessing let me say something personal. In the same year I learned that Santa Claus, Easter Bunny and the Tooth Fairy was made up make believe, lol. =) It rocked my world but I got over it. As for the stories and comments from ONTD from other people. Even though it's widely known as speculation and rumor or just people making things up or has some vendetta, I find it credible and believable based on what I know from what I've posted on her diva and whinny ways on top of everything else. I will say I am more sure of her being a diva and testy with what I've posted than these stories or comments because I have a source, photos and video for it. The stories like these makes you doubt unless you have something credible to back it up. Something else or similar to the claim. I do believe my stuff more than this but I don't cast it aside as not true either.
What do you think of these claims? What do you think of the links of my posts I provided? Does it make this seem like it's true, possible or you don't know? What vibe to get from Emma in her interviews both in print and video? Is it one where you are going how pretty she is or one where you feel something is not right here? Do you think she's just having bad days or she has issues? What do you think of those MTV bitch face reactions to award winners? I also ask if she is so perfect why can't she hold onto a man? Why does she jump from high end company to high end company in such a short time period (like she does guys) if she's such a valued endorser? What happened to Channel? Could it be true she is just too much and asks for too much from men and companies like Burberry and People Tree? Do you think she will last with Lancome? How much of what you see of her while the camera is on is a show and real in your opinion? Did she thank her fans for her TCA awards yet? We are talking about an actress here. Don't forget that.
Both stories and links to both blogs are from ONTD.
Update:
From
thehothits.com
Feb 2012, "Daniel Radcliffe has revealed that he and Emma Watson got into some massive fights on the set of the Harry Potter films -- and they weren't about who got the most mirror space in their dressing rooms. Daniel explained that he and Emma frequently engaged in debates about serious topics including religion and politics, and their arguments would get so heated that they would completely stop talking to each other! He tells Britain's Radio Times, "Oh, God. We used to argue about everything. Religion. Politics. I remember one of the big arguments we had on the fourth film - we didn't speak to each other for a couple of days - was about... She was arguing about the Latin language, that nobody knows what it sounds like, what a Latin accent should be. And I was like, 'Yeah, but it's still spoken a lot in the Catholic church.' "Such a w**ky argument, looking back, and it got totally out of hand. She was furious; I was livid." And Daniel has some advice for anyone attempting to start an argument with Emma. He adds, "I certainly would advise anyone, if you're going to debate with her, know your s**t."